A Study of Fiqh Al Buyu' – Level 2
(Exclusive for Ulama and Alimat)
Fiqh Al-Buyu' authored by the Grand Mufti of Pakistan, Mufti Taqi Usmani, is a modern text with a pure traditional approach on the subject, parting principles on Islamic jurisprudence related to modern financial transactions. It is a concise yet detailed book that discusses issues related to everyday financial transactions and how modern transactions relate to both the Islamic Legal system in context of the modern legal system from the perspective of the four prominent schools of thought in Sunni Islam.
The course will cover broad key concepts from Fiqh al-buyu', developing an advanced understanding of the various approaches to commerce and the complex financial transactions within the Islamic framework.
The students who have completed Al Balagh Fiqh al-buyu' – Level 1 can directly enrol in the Level 2 course. Those who would like to start learning Buyu, but have not completed Level 1 course, they can enrol in the Level-2 as well. However, they may need to complete the Level-1 course later to cover the chapters of both the levels. Fiqh al-buyu' – Level 2 will take it ahead from Level 1 and continue the chapters of the book from there.
Mufti Muhammed Zubair Butt
(Chair, Al Qalam, Bradford)
Mufti Barkatullah Qasmi
(Sharia Advisor, Al Rayyan Bank, UK)


Saturdays, 7:30PM - 9:00 PM for Mufti Barkatulla
Sundays, 7:30PM – 9:00PM for Mufti Zubair Butt

Video Recordings Available
Enrol Now
Starts on 5th June 2021
Course Fee
Pay in Full: £79.99 £29.99
(Considering the prevalent situation due to COVID-19, we are providing 60% scholarship on this Course)
Pay In 6 Installments: £5.00 per month for 6 months
Registration Deadline
25th June 2021
Al Balagh Scholarship
AlBalagh Scholarship is available for learners who cannot afford the fee.
Mufti Muhammed Zubair Butt
(Chair, Al Qalam, Bradford)
Mufti Barkatullah Qasmi
(Sharia Advisor, Al Rayyan Bank)
The course will cover the selected chapters from the following book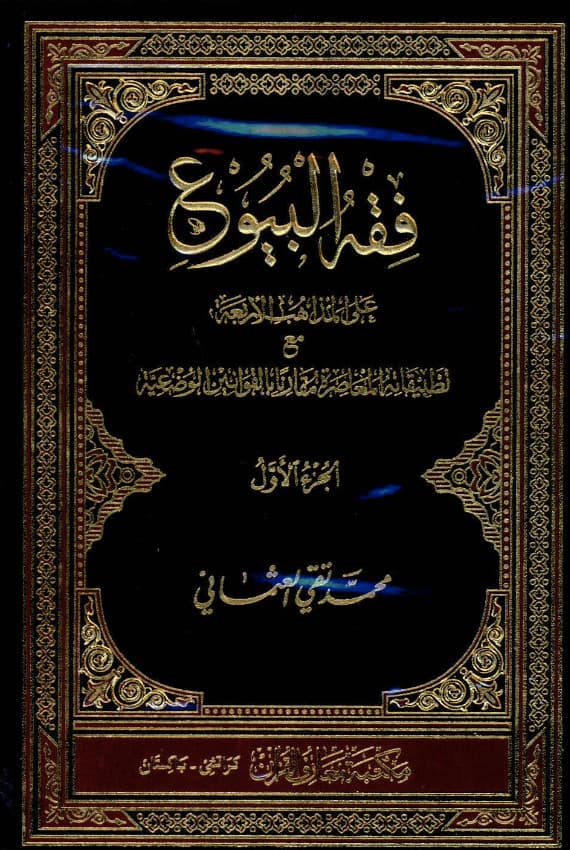 Very few courses provide a scholarly account of contemporary understandings of Islamic rulings related to trade and commercial transactions in a way which analyses classical text from a contemporary lens. The course will brief on a comparative study of new issues, its correlation to Islamic principles & medieval Islamic law, and the financial laws of various countries in the present day, like selling trademarks, copyrights, franchises, business licenses, publication rights, financial options and so on.

The course will present the book with uncomplicated and unencumbered technical terminologies, explaining the positions of Islamic principles and their rational and scriptural evidence. Studying this excellent book for the modern age is not only recommended but also highly essential for those who wish to master the subject.

This course will focus on selected topics of Volume I of the two-volume Arabic fiqh textbook during the first semester. The remaining topics of the book will be covered in the next semesters. The text includes the original Arabic script, in a logical format where the rulings of one issue leads to another issue and its rulings. Presented in high language, this book will enhance the student's colloquial, analytical and reflective abilities without hindering the perception of its extraordinary richness and enduring relevance.

The course is catered for Ulama and Alimat, who have a keen interest in perfecting their understanding of Islamic rulings related to the finance industry. Fiqh al-buyu' - Level 2 will provide a progressive and broad overview of each area with relevant and challenging contemporary concepts.
Frequently Asked Questions
Are Al Balagh courses recognised or accredited?
Al Balagh courses do not provide an externally accredited or recognised qualification. Our own expert team works at the course content. With over 5000+ learners, we are continuously growing and our vision is to make Al Balagh qualifications renowned worldwide through our expert team, without seeking formal accreditation or recognition from external institutional bodies.
How is this online course structured?
Our online course comprises live interactive online sessions, pre-recorded videos, online course material that include, presentations, reading material & online learning activities. Students may ask questions and get their doubts cleared from their respective lecturers, if any. Our dedicated academic support team will assist you as required.
When will I have access to the online course material?
Upon successful enrollment, you will get access to myAlBalagh (our online learning portal) within 24 hours.
Will I get notification for live sessions?
All students will receive notification for their course live sessions via email and/or course WhatsApp group. You may also check the Course Schedule tab on your dashboard after logging in on our website or Mobile App.
Is it mandatory to attend live sessions?
We always encourage attending live sessions among students, but it is not compulsory for technical course progress of the students.
I missed a live session. Can I get the video recordings?
If you are unable to attend a live session or have missed it, you can view recorded sessions on your course dashboard. You can access all the completed Recordings, PPT and assessments anytime.
Can I download the recordings and watch it offline?
You can download recordings and PPT of the course sessions from the myAlBalagh mobile App for all the enrolled courses.The recordings will be available for students after 48 hours of the live session.
Do I get marks for watching course recordings and presentations?
There are no additional marks for watching the course recordings. Only the module Assessments and the final exam add up to the final score.You can check the individual scores of your Assessments under the Progress tab of myAlBalagh.
I have doubts but I cannot attend the live session. Any other way to ask my questions?
You can discuss your doubts via Course WhatsApp Group dedicated for student discussion or access the Discussion Board on myAlBalagh. It is a platform for you to ask questions, discuss and get your doubts cleared.
When will the final exam be held?
The Final Exam will be held at the end of the course and will be a Graded And Timed Exam.
How do I interact with my classmates?
You can interact with your classmates on our Whatsapp Group exclusive for the course students. Furthermore, you can use the Discussion Board to connect with other course students as well.
How long will I have access to the online course?
You will have access to the online course content for up to 2 years. If you want lifetime access, contact our admin team via Email at [email protected].
I am facing trouble signing into the "myAlBalagh" Online Student portal. What should I do?
In case you find any trouble accessing your account, then please contact us immediately. Our dedicated support team will ensure that your problem gets resolved at the earliest.
How can I apply for the Al Balagh Scholarship?
Al Balagh Academy values seekers of knowledge more than anything. Please visit  here to apply for a scholarship. Our team will assess your application and respond in 2-3 working days.