Mastering Arabic Literature – Level 1 
The Al Balagh Mastering Arabic Literature course covers the intermediate Arabic Literature of Dars Nizami syllabus. This course aims to teach Arabic literature; theoretical and applied topics. It covers the various aesthetic and linguistic components of the language to introduce literature and to analyse the literary genres belonging to it.
 This course intends to introduce students to new vocabulary and the various literary styles that you can use in daily communication, attaining the enormous depth of the Arabic language from the roots of Classical Arabic all the way to the Modern Standard Arabic which is used across the world today.
Shaykh Mustaqeem Shah
(Lecturer, Al Balagh Academy, UK)


Mondays and Tuesdays (8:00 PM - 10:00 PM BST)


Video Recordings Available
Enrol Now
Starts on 1st November 2021
Level 1 Fee
Pay in Full: £119.99  £99.99

(20% Early Bird Scholarship)
Pay In 6 Installments: £19.99 per month

13th November 2021
Al Balagh Scholarship
AlBalagh Scholarship is available for learners who cannot afford the fee.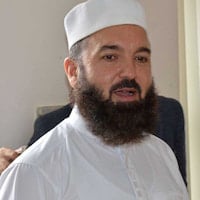 Shaykh Mustaqeem Shah
(Lecturer, Al Balagh Academy, UK)
Modules
Selected chapters will be covered from the following books
Nafhat al-`Arab (Selected)
Nafhat al-`Arab
(Selected)
Al-Ḥarīrī's Maqāmāt (Selected)
Al-Ḥarīrī's Maqāmāt
(Selected)
Mukhtasar Al Maani (Selected)
Mukhtasar Al Maani
(Selected)
Al Balaghah al Wadihah (Selected)
Al Balaghah al Wadihah
(Selected)
Diwan Al Mutanabbi (Selected)
Diwan Al Mutanabbi
(Selected)
Al Sirah Al Nabawiyyah – Shaykh Abul Hasan Ali Nadwi (Selected)
Al Sirah Al Nabawiyyah –
Shaykh Abul Hasan Ali Nadwi (Selected)
Qasas Al Nabiyyin (Selected)
Qasas Al Nabiyyin
(Selected)
Mukhtarat min Adab al-'Arab
Mukhtarat min Adab
al-'Arab
This language course will teach Arabic to non-native speakers with literary texts related to multiple contexts. This course is specifically offered to provide Arabic learners with an exposure to classical and contemporary literary texts and the ability to recognise and distinguish these texts from one another to truly reach an advanced level of proficiency in the Arabic language.

Through this course, Al Balagh intends to help students who have some level of linguistic communication competence with a taste for the beauty of Arabic reading, and understanding not only the language but also the culture of the language.

This course provides a comprehensive introductory review of the various literary texts in Arabic, from its early beginnings in the 5th century AD to the present, emphasising on the major genres of Arabic literature, engaging with sacred Islamic text (Nafhat Al Arab, Maqamat, Mutanabbi), the Qur'an, and the wealth of poetry, and narrative prose. The course will examine the link between the creative output of the present day to the illustrious literary heritage of the past that incorporates an immensely rich collection of renowned literature. This course provides the students with a remarking invaluable introduction to a major non-Western literary tradition.

This is an innovative concept in teaching the Arabic language will become a milestone for intermediate students in both linguistic skills and literary appreciation through the reading of contemporary texts (Qasas an-Nabiyyin, Sirah an-Nabawiyyah, Raheeq Al-Maktoum), classical prose in the original Arabic dialect by great and very different writers to give an insight of the various writing styles. Creative reading tasks and practices will help students to refine their knowledge of various literary styles of different writers, while grammar is sharpened through text analysis and writing assignments, with an emphasis on building vocabulary and idiomatic expressions, as well as developing an in-depth understanding of classical writing styles. This course is integrated with the basics of Balagha to ensure that students should have a clear and applicable understanding of Balagha (History, key points, key figures, key books). Read more
Course Format
This course is for those who have completed the intermediate level of Mastering Arabic, foundational Classical Arabic, or equivalent. The course develops the knowledge of students in specific literary areas of Arabic from early-Islamic times to the present, focussing on areas of the Arabic language, literature and culture.
There will be 4 Teaching Hours per week which will be delivered in the following format;
Class 1 : Balagha
Class 2 : Classical Textbooks
Class 3 : Contemporary Adab
Class 4 : Description and introduction of Arabic Adab Read more
Learning Outcomes
Upon Successful Completion Of This Course, Students Will Have The Knowledge And Skills To:
Explain the concept of Arabic poetry and prose in Arabic of different eras.
Meet the cultural and social norms through advanced one-to-one conversations.
Qualify for advanced analytical research of Arabic literature in reading.
Manifest advanced control over the morphology of language and the generally used syntactic structures.
Extract, analyse and differentiate between the Arabic literature belonging to the different periods.
Place arguments in Arabic about the various aspects of Arabic literature.
Frequently Asked Questions
Are Al Balagh courses recognised or accredited?
Al Balagh courses do not provide an externally accredited or recognised qualification. Our own expert team works at the course content. With over 5000+  learners, we are continuously growing and our vision is to make Al Balagh qualifications renowned worldwide through our expert team, without seeking formal accreditation or recognition from external institutional bodies.
How is this online course structured?
Our online course comprises live interactive online sessions, pre-recorded videos, online course material that include, presentations, reading material & online learning activities. Students may ask questions and get their doubts cleared from their respective lecturers, if any.  Our dedicated academic support team will assist you as required.
When will I have access to the online course material?
Upon successful enrollment, you will get access to myAlBalagh (our online learning portal) within 24 hours.
Will I get notification for live sessions?
All students will receive notification for their course live sessions via email and/or course WhatsApp group. You may also check the Course Schedule tab on your dashboard after logging in on our website or Mobile App
Is it mandatory to attend live sessions?
We always encourage attending live sessions among students, but it is not compulsory for technical course progress of the students.
I missed a live session. Can I get the video recordings?
If you are unable to attend a live session or have missed it, you can view recorded sessions on your course dashboard. You can access all the completed Recordings, PPT and assessments anytime
.
Can I download the recordings and watch it offline?
You can download recordings and PPT of the course sessions from the myAlBalagh mobile App for all the enrolled courses.The recordings will be available for students after 48 hours of the live session.
Do I get marks for watching course recordings and presentations?
There are no additional marks for watching the course recordings. Only the module Assessments and the final exam add up to the final score.You can check the individual scores of your Assessments under the Progress tab of myAlBalagh.
I have doubts but I cannot attend the live session. Any other way to ask my questions?
You can discuss your doubts  via Course WhatsApp Group dedicated for student discussion or access the Discussion board  on myAlBalagh. It is a platform for you to ask questions, discuss and get your doubts cleared.
When will the final exam be held?
The Final Exam will be held at the end of the course and will be a graded and timed exam.
How do I interact with my classmates?
You can interact with your classmates on our Whatsapp Group exclusive for the course students. Furthermore, you can use the Discussion Board to connect with other course students as well.
How long will I have access to the online course?
You will have access to the online course content for up to 2 years. If you want lifetime access, contact our admin team via Email at [email protected]
I am facing trouble signing into the "myAlBalagh" Online Student portal. What should I do?
In case you find any trouble accessing your account, then please contact us immediately. Our dedicated support team will ensure that your problem gets resolved at the earliest.
How can I apply for the Al Balagh Scholarship?
Al Balagh Academy values seekers of knowledge more than anything. Please visit our here to apply for a scholarship. Our team will assess your application and respond in 2-3 working days.