Muslim Chaplaincy, Pastoral Care and Counselling
Select Payment Option:

Add Add-ons:

Select Payment Option:

Add Add-ons:

Select Payment Option:

Add Add-ons:

Muslim Chaplaincy, Pastoral Care and Counselling Level-1
The course provides students with an opportunity to learn, understand and acquire the set of skills that are required for the role of a chaplain. The course uses a practical, spiritual and psychological approach, focused on key features of Muslim chaplaincy, covering a range of subjects that come handy in one's career as a chaplain.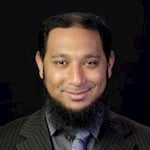 Dr Muhammad Mansur Ali
(Lecturer in Islamic Studies, Cardiff University, UK)

Saturdays : 11:00AM - 1:00PM GMT

Video Recordings Available

Enrol Now
Starts on Feb 22nd, 2020.
Course Fee:
Pay in Full:
Pay in Installment:
Final Deadline:
21st Feb 2020
AlBalagh Scholarship
AlBalagh Scholarship is available for learners who cannot afford the fee.
Shaikh Yunus Dudhwala
(The Chair of the Halal Monitoring Committee ,HMC,UK)
Dr Muhammad Mansur Ali
(Lecturer in Islamic Studies, Cardiff University, UK)
1.Introduction to Chaplaincy Work
Chaplaincy– Historical and Contemporary Perspective
Exploration of Models of Chaplaincy
Theological Approach to Chaplaincy
The Distinctive Contribution of Chaplaincy within Community
Multi-faith Approach to Chaplaincy
Spirituality, Suffering and Pain – How to address?
A Chaplain as Reflective Practitioner
2.Introduction to Muslim Chaplaincy
Theology of Chaplaincy
Islamic creed and Practices
Ethics: Religious and Contemporary Ethical Issues
Islamic Spiritual Care
Pastoral care in Islam
Core principles and Practices of Chaplaincy from Islamic Perspective
Key Challenges & Opportunities
3.Introduction to Prison Chaplaincy
The Criminal Justice System and Prison Chaplaincy, UK.
The Role and Contribution of a Muslim Prison Chaplain
Current England and Wales Prison Chaplaincy Service
The Changing Role of a Prison Chaplain
The Prison Chaplain – Key Challenges & Opportunities
Responding to Prisons
Understanding Thought Patterns and Negative Thinking
Spiritual Development – An Islamic Perspective
4.Introduction to Hospital Chaplaincy
Healthcare Chaplaincy– Historical and Contemporary Perspectives
Muslim Chaplain– Key Roles
Working in NHS, UK
Social care and Healthcare Chaplaincy
Self-care and Reflection
Human Health and Biology
Study Skills
5.Advanced Spiritual Care for Patients
The Meaning and Practice of Islamic Spiritual Care
Spirituality and Religion in Healthcare
Spirituality, Suffering and Pain (in context)
Spiritual Care Assessment of patients' needs and Provision of Care
Illness; Spiritual and Medical cure
Health Service, NHS UK
Palliative care and Marie Curie competencies (including end of life care for adult patients with learning difficulties)
Work Effectively in Trauma-informed Care
Children Chaplaincy
The Therapeutic relationship and boundaries
6.Islamic Grief & Bereavement Counselling
Provide Loss and Grief Support
Crisis Counselling
Stress Management
Shariah-compliant Wills, Inheritance and funeral rights and regulations in Islam and UK
7.Communication and Chaplaincy Counselling Skills
Methodology of Communication
Counselling Skills – Listening Skills
Islamic Therapeutic Communication
Essential Counselling Skills (CBT, listening skills, empathy etc)
Understanding Addiction Behaviour (Addiction Counselling)
Assertive Communication & Active Listening
8.Introduction to College/University Chaplaincy
Introduction to the Education System, UK
Chaplain in an Education System- Key Roles
Responding to Students
9.Interfaith Relations & Pastoral Care in a Multicultural Society
Theology of Chaplaincy
Multi-faith Approach to Chaplaincy
Interfaith Relations
Equality and Diversity in Contemporary Healthcare Chaplaincy
Ethical and Pastoral Care in Multicultural Society
Cross-cultural Communication in Healthcare Chaplaincy
Ethics: Religious and Contemporary Ethical Issues
Ethical Pastoral Care
10.Clients and Case Management – Practical Model (Part 1)
Work with Diverse People
Facilitate the Empowerment of Older People
Work with People with Mental health issues
Identify and Respond to Children and Youth at Risk
Engage Respectfully with the Youth
Respond to Client Needs
Dealing with Critical Situations
Use Communication to Build Relationships
Ethics and Confidentiality
Work Legally and Ethically
11.Clients and Case Management – Practical Model (Part 2)
Planning the Provision of Pastoral and Spiritual Care
Providing Pastoral and Spiritual Care
Reflecting on and Improve own Professional Practice
Developing, Facilitating and Reviewing all Aspects of Case Management
Analyzing Impact of Sociological Factors on Clients in Community, Work and Services
Developing Empathy in the Light of Sunnah
12.History of Muslims in Britain
Cultural Sensitivities – Ethnic Minorities in the UK and in the West
Social Issues and Finding Solutions
13. Woman, Islam and the UK
Marital Issues and Family Discord
Types of Divorce and Regulations in Islam
Key Issues
Key Opportunities
The course will provide an in-depth analysis of chaplaincy, spiritual advice and pastoral care from an Islamic perspective, by enriching learners with a clear understanding of the core principles and practices of chaplaincy from an Islamic perspective. The teaching sessions will enable them to understand and engage with a broader cultural, sociological and political issues surrounding chaplaincy for Muslims in the contemporary world. The course will prepare them to deal with those in spiritual distress, situated in the various existing contexts such as Prison, university, rehab, and hospitals. Highlighting the key aspects of spiritual development from the perspective of Islam, the course will cover multiple areas of Muslim chaplaincy such as Prison Chaplaincy, Hospital Chaplaincy, Education Chaplaincy and Mosque Chaplaincy that enable you to understand how to provide personal, and spiritual advice and care in different situations and multicultural contexts. Considering the concepts and normative framework of chaplaincy, this course will help you examine the extent to which these principles of Muslim chaplaincy will find a place in the context of contemporary advanced spiritual care for imprisoned, medical patients, students, women and Muslims living in multicultural environment.
The course will enlighten on the topics such as Grief & Bereavement Counselling, Crisis Counselling, Stress Management, Essential Counselling Skills including CBT ( Cognitive behavioural therapy), communication & listening skills and empathy; and Understanding Addiction Behaviour (Addiction Counselling), Understanding of Thought Patterns, Negative Thinking and the Role of a Chaplain in Prisons, Universities and NHS, UK. The course will equip the students with the skills and knowledge that enable them to work effectively in trauma-informed care, deal with people suffering through mental health issues, provide loss and grief support, offer spiritual advice and care to elderly, young people, teenagers and women. It explores key aspects related to Muslim chaplaincy, with a practical and deep understanding of pastoral care in Islam. This strengthens them to address present-day pastoral care challenges in the West such as cultural sensitivities of ethnic minorities in the UK, social issues faced by Muslim living in the Western countries and multicultural societies. The course will also provide with the grasp of interfaith relations & pastoral care in a multicultural society, women and marital issues and an understanding of thought patterns, negative thinking, including a study of addiction behaviour.
The course will develop essential skills related to case Management including spiritual care assessment of patients' needs, and provision of care and analyzing the impact of social factors on them. The course will also teach the learners to provide effective spiritual advice to the various types of distressed people such as students, imprisoned, patients and women.
Al Balagh Muslim Chaplaincy, Pastoral Care and Counselling course is a distinctive and comprehensive online course, that will enable students to learn how to practice chaplaincy in hospitals, prisons, universities, mosques and lead in community work. The level 1 course will prepare the students for level 2, which will be more intensive and focused on practical professional training. Read more
Key Objectives
The objective of this course is:
To develop an understanding of chaplaincy from both western and Islamic perspective with a clear insight of Islamic pastoral care.
To enrich with extensive mastery in hospital chaplaincy, prison chaplaincy, university chaplaincy, and mosque chaplaincy.
To enable an understanding of advanced spiritual care for patients, Islamic grief & bereavement counselling, Interfaith relations, & pastoral care in a multicultural society, cultural sensitivities through practical, spiritual and psychological approach.
To provide with a critical and context-based analysis of issues relating to chaplaincy and pastoral care in the Muslim communities around the world, with more focus on the issues faced by Muslims living in the Western countries and Multicultural societies.
To build the essential skills related to chaplaincy such as listening skills, communication skills, Islamic counselling skills, CBT, clients, and case management.
Learning Outcome
Upon completion of this course, the students will:
Gain theoretical knowledge and practical skills of Muslim chaplaincy and Islamic pastoral care.
Be able to understand the core areas of Muslim chaplain and its  application in various contexts such as Prison, Hospital, College and Mosque.
Be able to differentiate between the multiple concepts of conventional chaplaincy and Islamic chaplaincy and choose the best-suited method.
Be equipped with a clear insight of all facets of Muslim chaplaincy and Islamic spiritual care including, management of clients and cases, provision of effective spiritual care, plan and analyse.
Learn where and how a person would require specialist intervention and spiritual support.
Be able to work as a chaplain in Prisons, Hospitals, Education Institutions, Mosques and Community Centers.
Frequently Asked Questions
How is this online course structured?
Our online course comprises live interactive online sessions, pre- recorded videos, online course material that include, presentations, reading material & online learning activities. The learners can ask questions and get their doubts cleared if any. You can get support from our dedicated academic support team during live sessions and even after it, as needed.
Is it compulsory to attend LIVE sessions? Will it be count towards the progress of my course?
We always encourage attending LIVE sessions among students, but in any case you miss attending one of the sessions, then you can always access the recorded videos of the session (Yes, you will get access to the recorded video of every LIVE session you missed).
When will I have access to the online course material?
Upon successful enrollment, you will get access to myAlbalagh, our online learning portal, within 24 hours.
When will LIVE sessions be scheduled?
The Date, Day, and Time for each LIVE session will always be pre-scheduled. To know more about the schedule on live sessions, please, visit "myAlbalagh" and click on the tab "Schedule." You will get complete details.
What if I am not able to attend LIVE sessions?
If in any case, you miss attending LIVE session, you can catch up by watching the video recordings later at your convenience. To get access to the video recordings, visit "myAlbalagh" and sign-in. You can get access to "myAlbalagh" through your laptop, desktop and ever your mobile.
What if I have questions to ask but can't attend Live?
You can access the "discussion board" via "myAlbalagh" or through "whatsapp group" dedicated for student discussion. It is a platform for you to ask questions, discuss and get your doubts cleared. Our support staff will mediate your queries back and forth to the course instructors.
How do I interact with my classmates?
You can use "Discussion Board" to get connected to other course learners as well. Furthermore, you can interact with your classmates on our "Whatsapp Group" exclusive for the course students.
How long will I have access to the online course?
You will have access to the online course content for up to 2 years. If you want lifetime access, contact our admin team via Email at [email protected].
Are family/group discounts available?
Yes, we provide discounts for groups or families who are interested in joining our courses. Please, email us to get details on it.
I am having trouble signing into my private member portal. What should I do?
In case you find any trouble accessing your account, then please contact us immediately. Our dedicated support team will ensure that your problem gets resolved at the earliest.
To contact,
Email: [email protected]
Whatsapp : +44 7480 050078
Live Chat Support (9 AM TO 9 PM GMT) 
Mobile (9 AM TO 9 PM GMT)
© Al Balagh Academy 2020 / 1441 هـ